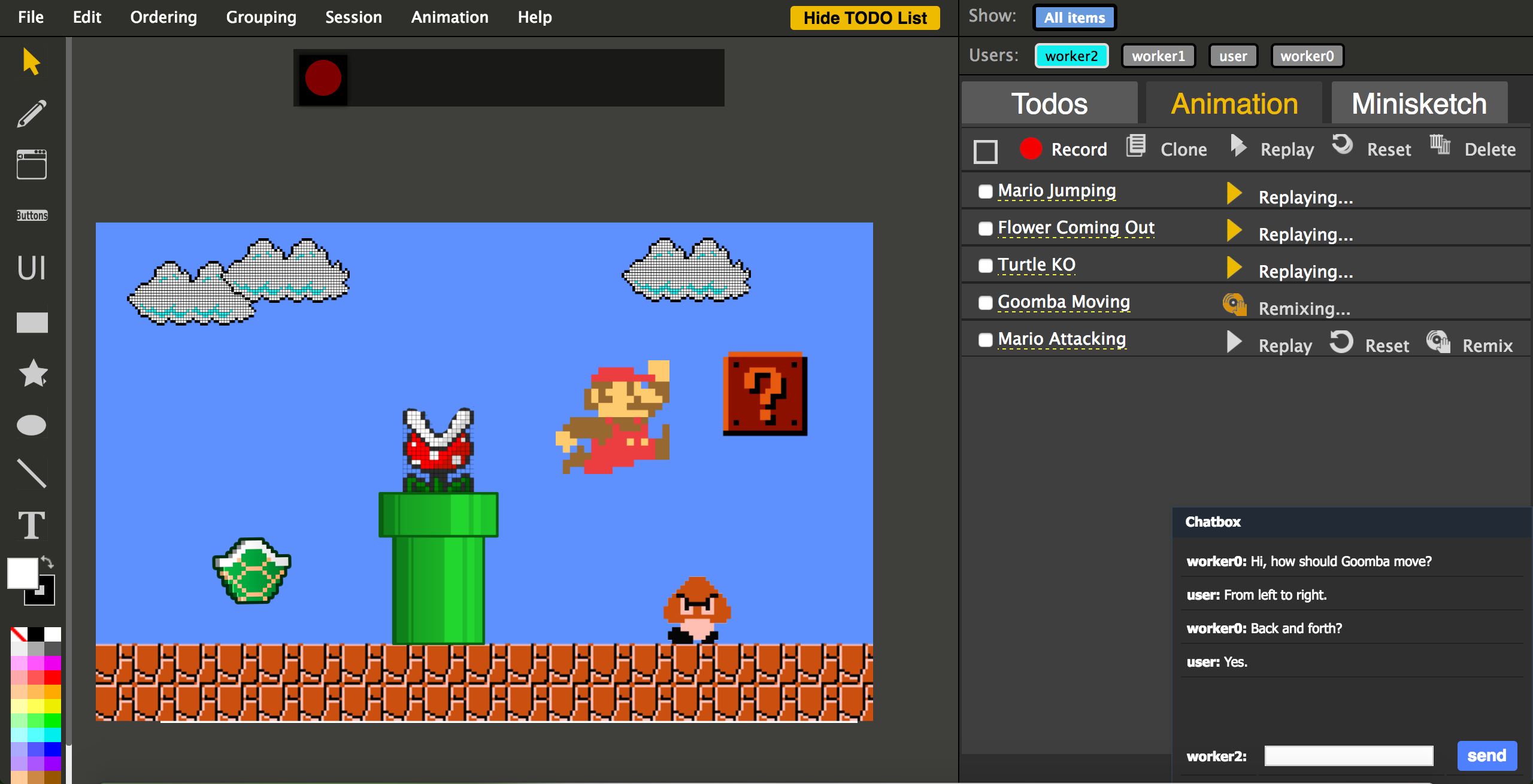 Low-fidelity prototyping at the early stages of user interface(UI) design can help designers and system builders quickly explore their ideas. However, interactive behaviors in such prototypes are often replaced by textual descriptions because it usually takes even professionals hours or days to create animated interactive elements due to the complexity of creating them.
In this project, we introduce SketchExpress, a crowd-powered prototyping tool that enables crowd workers to create reusable interactive behaviors easily and accurately. With the system, a requester—designers or end-users—describes aloud how an interface should behave and crowd workers make the sketched prototype interactive within minutes using a demonstrate-remix-replay approach. These behaviors are manually demonstrated, refined using remix functions, and then can be replayed later. The recorded behaviors persist for future reuse to help users communicate with the animated prototype.

We conducted a study with crowd workers recruited from Mechanical Turk, which demonstrated that workers could create animations using SketchExpress in 2.9 minutes on aver-age with 27% gain in the quality of animations compared to the baseline condition of manual demonstration.
Papers
SketchExpress: Remixing Animations For More Effective Crowd-Powered Prototyping Of Interactive Interfaces.(paper) Lee, S. W., Zhang, Y., Wong, I., Yang Y., O'Keefe, S., Lasecki, W.S., In Proceedings of the ACM Symposium on User Interface Science and Technology (UIST). Quebec City, Canada.
Posters
Creating Interactive Behaviors in Early Sketch by Recording and Remixing Crowd Demonstrations (paper).
Lee, S. W., Yang Y., Yan, S., Zhang, Y., Wong, I., Tan, Z., McGruder, M., Homan, C., Lasecki, W.S. In In AAAI Conference on Human Computation and Crowdsourcing (HCOMP 2016), Austin, TX, 2016
Related Videos